Comfort

Back Support

Edge Support

Affordability

Cooling

Trial & Warranty

Customer Service
TEMPUR-Cloud Mattress
The TEMPUR-Cloud mattress has the potential to be a crow pleaser among memory foam fans who can afford the investment. With Tempur-Pedic's classic pressure relieving foam at a medium firmness, it's a great choice for older couples and guests.
We are completely independent and do an in-depth mattress analysis that includes utilizing ratings from many other sites with each review.  When you buy through our links, we may earn a commission. Learn more
TEMPUR-Cloud Mattress Review
Fans of memory foam mattresses have been coming to Tempur-Pedic for their innovative NASA designed beds since the 90's. With the growing competition and rise of the bed-in-a-box trend, Tempur-Pedic responded with a revamped version of their Cloud Collection: The TEMPUR-Cloud.
If you're looking for a luxury memory foam mattress, but aren't necessarily looking to break the bank, TEMPUR-Cloud may be the one for you. Read this comprehensive dig to find out!
Reviewer Rating Highlights For The TEMPUR-Cloud Mattress
With a more approachable price than other Tempur-Pedic models, the TEMPUR-Cloud is a crowd pleasing luxury memory foam mattress great for average weight sleepers, particularly side sleepers. The motion isolation of the slow-moving foam is great for couples and families looking for less disturbances at night. Sleep deeper and longer, cradled by the TEMPUR-Cloud in all the right places.
Recommended for the following sleeper types:
Best Mattress For:
Side and back sleepers
Memory foam fans
Couples and people who sleep with their children or pets
Restless sleepers
Not Recommended For:
Shoppers on a budget
Those who sleep hot
Those who prefer a more traditional mattress
Heavy weight sleepers
Stomach sleepers
A Closer Look at TEMPUR-Cloud Materials
The TEMPUR-Cloud mattress is a compressed "Bed in a box" mattress, meaning it will need to decompress for a day or two after setup. It is heavy foam, so be prepared with an extra person to help. According to the website, the mattress may arrive in a cardboard box instead of the pictured reusable canvas bag due to demand. There will likely be a "new bed smell," known as off-gassing odor, so be sure and let your mattress breathe for a day or two in a well ventilated area before you sleep on it.
Tempur-Pedic's custom foam was originally designed in the US with NASA to absorb the G-force of astronauts traveling into space, and became their signature proprietary technology they've been developing for decades. According to their website, Tempur-Pedic certifies that all products are subject to the Federal Flammability Standard. In addition, Tempur-Pedic mattresses are CertiPUR-US certified, meaning they're environmentally safe and up to standards.
Firmness
The TEMPUR-Cloud comes in a universal medium firmness, falling at about a 6.5 on a scale of 10, 1 being the softest. Depending on your body type, this may feel firmer, especially in the first few weeks of the break in period. Tempur-Pedic mattresses are known for softening up over time, so this may put the TEMPUR-Cloud closer to a level 5 firmness after a while. This makes it potentially a great bed for a wide range of sleepers who want something not too firm or too soft.
The TEMPUR-Cloud has a simple but effective construction:
TEMPUR-Cloud's Layers
360 Cover: Stretchy and breathable, this Tempur-Pedic designed cover promotes airflow more than some other compressed mattress brands.
Comfort Layer: A new formulation of Tempur-Pedic's classic memory foam that sinks deep to relieve pressure.
Support Layer: A slightly firmer layer of Tempur-Pedic foam that acts as a transition layer, preventing you from sinking to the bottom.
Base Layer: A thick layer of high-density poly foam curbs deep sinkage, providing stability and shape.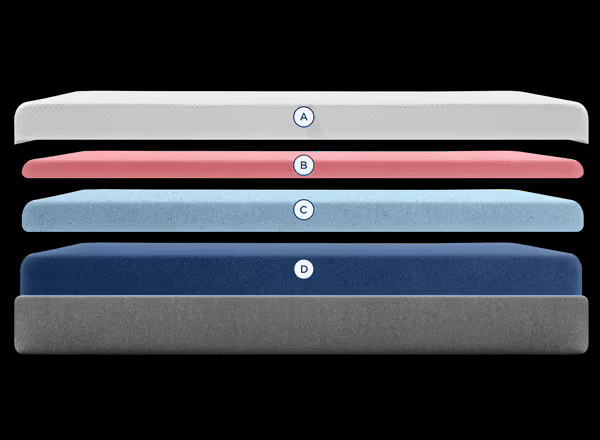 Mattress Sizes and Prices
(price doesn't include discount or sale items)

| Size | Dimensions | Regular Price |
| --- | --- | --- |
| Twin | 38" X 75" | $1,699 |
| Twin Long | 38" x 80" | $1,699.00 |
| Full | 53" x 74" | $1,899.00 |
| Queen | 60" x 80" | $1,999.00 |
| King | 76" x 80" | $2,399.00 |
| California King | 72" x 84" | $2,399.00 |
| Split King | Two 38" x 80" pieces | $3,398.00 |
Pros and Cons
Who is the Tempur-Pedic TEMPUR-Cloud mattress best for?
Couples who sleep with their children or pets looking to treat themselves to a memory foam bed should enjoy the motion isolation the TEMPUR-Cloud provides. This mattress is best for light to average weight sleepers, as heavier sleepers may need more support from a different bed. Anyone struggling with back pain on their old mattress may appreciate the pressure relief of the TEMPUR-Cloud. Combination sleepers should be relatively comfortable in any position, particularly side and back. Stomach sleepers could find themselves out of alignment and may need a different mattress.
How is the edge support?
As with most memory foam mattresses, the edge support of the TEMPUR-Cloud could be better, but isn't terrible. Couples may need to take this into consideration, as it can make the bed feel smaller. You may have difficulty sitting on the edge to tie your shoes, as sinkage will occur.
How is it for sex?
Since the edge support is lacking and the foam is slow moving, this isn't the greatest mattress for intimacy. Couples may have difficulty moving through the foam, and feel forced to the middle by the sinking edges.
What's The Catch?
ong time fans of the Tempur-Pedic line claim that this isn't the same as previous models from the Cloud Collection. Their previous Cloud line was discontinued, and the TEMPUR-Cloud was brought back in 2019 as a nod to the line. They say if you liked the old Cloud Collection, you might prefer the TEMPUR-Adapt over the current Cloud.
Since this is just classic memory foam with no cooling technology beyond the breathable cover, this mattress does insulate and trap heat. Since the bed will soften over time, this could eventually feel like a hot sink trap that is difficult to move out of. Breathable sheets and bedding could make a difference in this case, but since this is a new formulation of Tempur-Pedic foam, it is still more breathable than past models.
The Best TEMPUR-Cloud Mattress Reviews
Satisfied sleepers love the cushy feel of the TEMPUR-Cloud. People suffering from body pain like arthritis mention feeling far less pain on this mattress. Many love that this model is delivered directly, and say it is just the right level of firmness. At best, the TEMPUR-Cloud conforms and comforts, relieving pressure in all the right places. For the majority of their reviewers, Tempur-Pedic has delivered quality sleep once again with this model.
The Worst TEMPUR-Cloud Mattress Reviews
Unhappy campers report dissatisfaction with the firmness level, either stating it is far too hard or too soft. Some reviewers mention the mattress losing its shape quicker than expected, and therefore losing much of the motion isolation quality. Another common complaint is the mattress being too thin to be a Cloud and not having enough support. This results in more pain than pain relief. Others reported never before night sweats, as the TEMPUR-Cloud traps more heat than some would prefer. If you want to return it, you may be facing a charge, so be sure and read the fine print ahead of time.
Tempur-Pedic Mattress Warranty
All Tempur-Pedic mattresses are covered by a 10-year full replacement limited warranty, meaning for up to 10 years after purchase, any confirmed defects covered under the warranty can be claimed for a repair or replacement with no deductible. This warranty extends only to mattresses purchased from Tempur-Pedic or an authorized Tempur-Pedic Retailer. Transportation fees associated with repairs or replacements are not covered by Tempur-Pedic.
Registering your product with Tempur-Pedic's website can help keep record of your purchase for future reference and claims. If you're making a claim through a third party authorized retailer, you'll need proof of purchase to make it. Keep in mind the warranty for any replacement runs from the date of the original purchase. Be sure to read all terms and conditions before the purchase of any mattress, and keep all receipts and records of purchase in a safe place at home.
What the mattress warranty covers
Deterioration causing the mattress to have a visible indentation greater than three-fourths of an inch (0.75) is covered, as long as it isn't associated with use of an improper or unsupportive foundation or adjustable bed base. Physical flaws that cause the Tempur material to split or crack despite proper set up and normal use are covered.
Manufacturing defects in zipper assembly of the cover are also covered, and if the cover needs replacing Tempur-Pedic offers the most current style available, which could be different than the cover originally provided. Note also that any extra pieces such as pumps, hoses or remotes provided with any Tempur-Pedic product is only warranted for 5 years, but may be qualified for replacement if deemed defective.
What the mattress warranty doesn't cover
Tempur-Pedic emphasizes that they may require proof of the quality of the base you're using, and reserves the right to invalidate your warranty if they find it inadequate. If you purchased your mattress before 2014, the warranty may have been updated and changed. A natural increase in softness of the Tempur material that does not affect the overall quality of the mattress isn't covered, and neither is overall comfort preference, meaning if you simply find the mattress uncomfortable after the trial period you may be stuck with your mattress.
Tempur-Pedic does not cover physical abuse or damage such as burns, cuts, stains, tears or liquid damage, and the warranty won't apply to any mattress that is considered used, previously owned or sold through unauthorized retailers. It is strongly recommended to go over the warranty before contacting customer service, so you know whether or not you'd be wasting your time by making a claim.
Sleep Examiner's Review Process
Here at Sleep Examiner, we consider ourselves expert reviewers of all things sleep. However, we believe that ten opinions are better than one, so we take on the task of opening twenty different browser tabs and digging deep so you don't have to. We painstakingly comb through reviews on multiple sites for every mattress, pillow, and sleep accessory we can find – so you don't get fooled by fake, biased, or limited points of view.
Using a combination of verified customer reviews, we put together in-depth research on the exact composition and materials used, as well as comparisons and ratings from expert sites. Once our research is concluded, our system automatically generates an overall performance score for each mattress based on the collected data in the following categories: Comfort, Firmness, Edge Support, Affordability, Cooling, Trial period, Warranty and Customer Support.
TEMPUR-Cloud Mattress Summary Analysis
Tempur-Pedic bought out fellow mattress company Sealy after building a strong reputation selling luxury memory foam mattresses, forming umbrella company Tempur-Sealy International in 2012. Tempur-Pedic donates mattresses to military personnel, first responders, disaster relief efforts and more. Since they're so large, you can find their flagship stores to try out mattress models for yourself, though according to reviewers their store models often feel different than the ones that are shipped out. The right frame and initial break in period can factor into how comfortable your mattress ultimately stays, so keep this in mind.
TEMPUR-Cloud is their first and only bed-in-a-box so far, launched in response to the rising trend among competition. Considering the prices of their other models currently available, the TEMPUR-Cloud is the most affordable and still holds quality compared to other brands who make similar beds.
TEMPUR-Cloud Performance Score
Comfort: 4.2/5
Back Support: 4/5
Edge Support: 2.5/5
Affordability: 4/5
Cooling: 3/5
Trial & Warranty: 4.2/5
Customer Service: 4.5/5
The Verdict: 3.8/5
The TEMPUR-Cloud has the potential to be a crowd pleaser among memory foam fans who can afford the investment. With Tempur-Pedic's classic pressure relieving foam at a medium firmness, it's a great choice for older couples and guests. However, the poor mattress cooling and lack of edge support might prove unpleasant for hot or heavier weight sleepers. If you don't know your trial and warranty terms you could have trouble with customer support, so always read the fine print.
CHECK PRICE