Comfort

Back Support

Edge Support

Affordability

Cooling

Trial & Warranty

Customer Service
Summary
The popularity of the Casper Original Mattress should be taken with a grain of salt. While on the surface Casper comes across as the perfect memory foam mattress, those in the market should consider finding a place to try before buying to make sure they're making the right decision.
We are completely independent and do an in-depth mattress analysis that includes utilizing ratings from many other sites with each review.  When you buy through our links, we may earn a commission. Learn more
Casper Original Mattress Review
If you're reading this, you might be curious about the mattress that has taken the bed-in-a-box market by storm: the Casper. Launched in 2014, Casper now offers a wide variety of sleep related products, including beds for your pets! Casper's popularity comes largely from celebrity backing from figures like Ashton Kutcher and Kylie Jenner, as well as other influencers on Instagram and YouTube posting unboxing videos once their bed in a box mattress arrived.
Wanna understand the hype, but don't wanna do the digging? Read on to find out if the Original Casper Mattress is right for you.
Reviewer Rating Highlights For The Casper Original Mattress
The Original Casper mattress is ideal for light to average weight combination sleepers looking for pain relief from a memory foam mattress. The zoned layer offers specific support and comfort throughout the hips, shoulders and spine to promote healthy alignment. Couples looking for something to reduce disturbance in the night may enjoy the minimal motion transfer of the Original Casper
Recommended for the following sleeper types:
Best Mattress For:
Stomach and back sleepers
Memory foam fans
Couples looking for motion isolation
Not Best For:
Heavyweight sleepers
Sleepers who overheat regularly
Sleepers on a budget
A Closer Look At The Casper Original Materials
All of Casper's foams are CertiPUR-US® certified, meaning they're made without ozone-depleting chemicals and phthalates regulated by the Consumer Product Safety Commission. The average Casper mattress weighs about 100 pounds, so be sure to set up where you need it with an extra pair of hands. Off gassing is likely, so we always recommend you air out your mattress for a day or two before use.
Knitted Cover and Top layer: breathable polyurethane foam ensures this mattress won't sleep too hot and humidity has somewhere to go, counteracts potential heat trap of second layer.
Comfort Layer: zoned memory foam provides targeted support with extra firmness in the middle for spinal alignment and hip support, but can trap heat.
Base Layer: thick durable polyurethane foam for overall structure support.
Firmness
The Casper Original mattress is often described as "the perfect medium." On a scale of 1-10, the Casper's firmness falls between 5.5 and 7, so we give it a 6. This can be a very accommodating compromise for a lot of people, but others might find it too firm or too soft. Some customers suggest an adjustable frame, which can often play a factor into how the firmness is perceived. Always remember that body type plays heavily into firmness experience.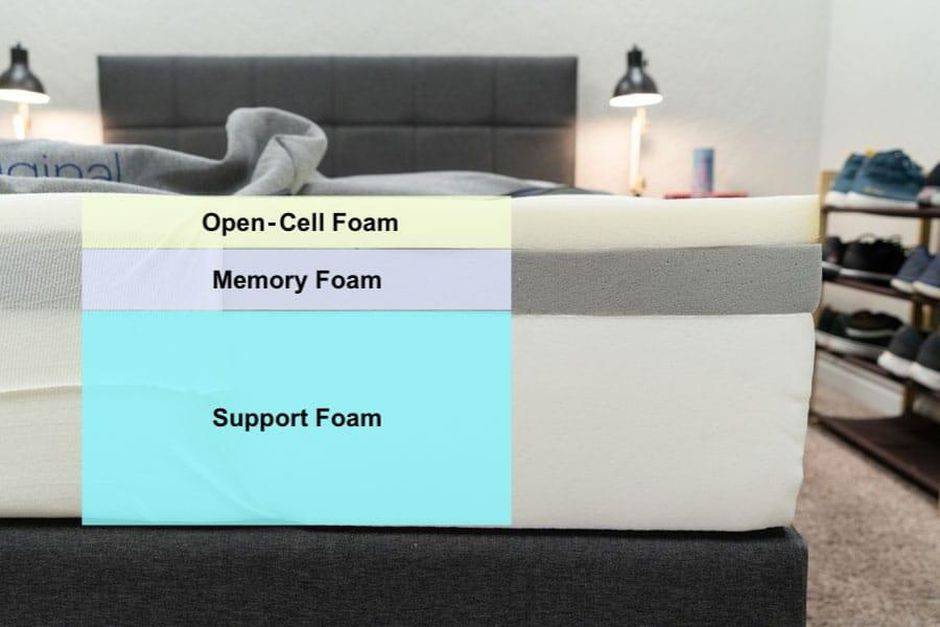 Mattress Sizes and Prices
(price doesn't include discount or sale items)

| Size | Dimensions | Regular Price |
| --- | --- | --- |
| Twin | 38" x 75" | $995 |
| Twin XL | 38" x 80" | 1,145 |
| Full | 53" x 75" | $1,445 |
| Queen | 60" x 80" | $1,495 |
| King | 76" x 80" | $1,945 |
| California King | 72" x 84" | $1,945 |
Pros and Cons
Who Is The Casper Original Mattress Is Best For?
Memory foam fans who enjoy the contouring hug of memory foam layers will probably like the Casper, but shouldn't expect too much of that "sink in" feeling, as it's on the firmer side for a memory foam mattress. This means that it's great for back and even stomach sleepers, but maybe not for all side sleepers. Couples should find it easy to move around on the Casper, and therefore enjoy it for sex. Lastly, if you're looking for less disturbance than a typical spring mattress, the Casper reduces motion transfer to a minimum so you're less likely to notice your partner moving in the night.
Is There Overheating?
While Casper boasts what they call an "AirScape™" layer of hole punched polyurethane for extra breathability, all memory foam mattresses are known for insulating warmth. Keep this in mind if you're the type of sleeper that struggles with overheating and night sweats, because this might not be enough for you.
What's The Catch?
There are a few downsides to the Casper mattress for the average buyer. Some might find it a bit out of their price range, but its still relatively affordable for a memory foam mattress. Sleepers over 200 pounds may want to try out the mattress for themselves in one of Casper's stores to be sure they're getting enough support, or invest in the hybrid model. Customer service is sometimes lacking-to-abysmal according to some reviewers around the web, and their warranty often prevents returns on technicalities. The Original Casper isn't going to feel the same for everyone. Some side sleepers might find the support lacking or uncomfortable in their hips and shoulders. It could even feel too firm for some altogether.
The Best Casper Original Mattress Reviews
Satisfied customers say the Casper Original is like sleeping in a luxury hotel every night. For many it is the perfect medium firmness, relieves pain, and provides in all the right places for a good night's sleep. Even if it wasn't the right mattress, customer service came through and assisted with return.
The Worst Casper Original Mattress Reviews
Those who weren't happy with Casper weren't afraid to say it. One look at their websites lowest rated reviews and it's obvious the company doesn't always come through. Some customers wrote a review just to say they'd ordered over a month ago and still hadn't received their mattress, so they couldn't leave a proper review at all. Some customers really struggled to return their mattress, or were completely denied return. The quality and firmness of the Casper can depreciate over time. We strongly suggest reading through Casper's warranty to find out what is and isn't covered before purchasing.
The Casper Mattress Warranty
Casper offers a 10 year limited warranty to the original purchaser of the mattress in the United States or Canada. This warranty extends exclusively to mattresses manufactured by Casper Sleep, purchased directly from their company or Casper's authorized retailers. It does not extend to clearance mattresses. Be sure to read the terms and conditions before the purchase of any mattress, and keep all receipts and records of purchase in a safe place at home.
What The Casper Warranty Covers
Visible indentations greater than 1 inch not associated with use of an improper or unsupportive foundation or bed base are covered by Casper's warranty. Physical flaws in the mattress that cause splitting or cracking in the foam material despite normal use and proper handling are also covered, as well as any manufacturing defect in the zipper assembly of the mattress cover. Be aware that if you're a Trade Customer, the limited warranty period is only 3 years.
What The Casper Warranty Doesn't Cover
Physical abuse or damage such as burns, cuts, stains, tears or liquid damage isn't covered by Casper, and the warranty won't apply to any mattress that is considered used, previously owned or sold through unauthorized retailers. A normal increase in softness isn't covered if Casper decides it doesn't affect the overall quality of the mattress. Comfort preference isn't covered either, meaning if you simply find the mattress uncomfortable and there aren't any defects, the warranty won't work in your favor. Go over your warranty before contacting customer service, as the rights it gives you may vary from state to state according to their website.
Sleep Examiner's Review Process
Here at Sleep Examiner, we consider ourselves expert reviewers of all things sleep. However, we believe that ten opinions are better than one, so we take on the task of opening twenty different browser tabs and digging deep so you don't have to. We painstakingly comb through reviews on multiple sites for every mattress, pillow, and sleep accessory we can find – so you don't get fooled by fake, biased, or limited points of view.
Using a combination of verified customer reviews, we put together in-depth research on the exact composition and materials used, as well as comparisons and ratings from expert sites. Once our research is concluded, our system automatically generates an overall performance score for each mattress based on the collected data in the following categories: Comfort, Firmness, Edge Support, Affordability, Cooling, Trial period, Warranty and Customer Support.
Casper Original Mattress Summary Analysis
Casper is a solid and well awarded company overall, but has had some controversies with other websites and warranty issues. If you're not satisfied with their original model, you might consider some of their other options offered as long as the company will work with you. Casper has donated over 70,000 sleep products to people and animals through partners like the International Rescue Committee, Badass Brooklyn and A Sense of Home. They recycle or donate their products when appropriate, and now have store locations so you can try out their products in person.
Casper Original Mattress Performance Score
Comfort: 4.2/5
Back Support: 3.7/5
Edge Support: 2.8/5
Affordability: 4/5
Cooling: 2.7/5
Trial / Warranty: 3/5
Customer Service: 3/5
The Verdict:3.3/5
The Casper Original mattress should be taken with a grain of salt. While on the surface it comes across as the perfect memory foam mattress, those in the market should consider finding a place to try before buying to make sure they're making the right decision. The company offers incentives for positive reviews, making them a little harder to trust until you go off site. If you have the right body type, don't overheat much, and want a memory foam mattress, the Casper Original Mattress could be your perfect match, or make a great guest bed addition.
CHECK PRICE