Comfort

Back Support

Edge Support

Affordability

Cooling

Trial & Warranty

Customer Service
Tempflow Memory Foam Mattress
If you sleep hot and still want a memory foam mattress, one of Tempflow's mattress models just might be the magic mattress for you. While their prices may still be considered high for some shoppers, their mattress models are still more affordable than their competitors.
Compare: Tempflow Air Bed Mattresses
It's no secret that memory foam beds have a history of insulating heat. Even gel-infused foam, which claims to keep you cooler than average memory foam, still traps airflow. If you've got your heart set on a nice memory foam bed, but are wondering if you can find one that genuinely sleeps cooler, look no further than Tempflow mattresses.
Tempflow's down to earth company promises a memory foam mattress that breathes using their patented technology giving you the best sleep ever. Read on to compare our Tempflow mattress reviews and learn why Tempflow Air Beds are some of the highest-rated mattresses on the market.
Shipping Method
Free, Return Fees Apply
Sleep Rating: 4.8/5 Sleepers Recommend Tempflow Mattresses
Tempflow is a brand of Relief-Mart, Inc with seven different memory foam mattress models. Some models offer a choice in mattress firmness while others have a hybrid mattress option. From the Original Tempflow, to the Glacier Elite, to the Supreme Contour, there's something for everyone who loves a luxurious memory foam bed. Tempflow mattresses have special patented AirFlow technology to maintain a comfortable temperature through every season and keep you sleeping longer and deeper than ever.
Tempflow Contour

Temflow EliteContour

Tempflow SupremeContour

Tempflow Glacier Supreme

Tempflow Elite

Tempflow Cloud

Tempflow Original
We recommend these mattresses for the following sleeper types:
Best Mattresses For:
Those who sleep hot
Memory foam fans
Side sleepers
Back sleepers
Those concerned with material safety
Not Recommended For:
Those on a budget of 1k or less
Those who prefer a more traditional mattress
Restless sleepers who move often
A Closer Look at Tempflow's Materials
Tempflow mattresses are made with what they refer to as Biogreen proprietary viscoelastic memory foam that boasts multiple environmentally friendly safety certifications, including: Certi-Pur US, GreenGuard and GreenBear Mark. Tempflow's Biogreen memory foam is lab tested to ensure a truly non-toxic experience, as well as strength and durability in extreme conditions. This means that not only is the off-gassing hardly noticeable compared to other memory foam brands, Tempflow mattresses can withstand the test of time. Hand manufactured in their facility in California, Tempflow offers a custom experience to each customer according to their needs.
Kool-Flow Cover: A breathable blend of polyester and bamboo, this knit fabric cover is featured on each Tempflow mattress and micro-vents for better airflow.
Airflow Transfer System: A patented technology that channels airflow through mattresses both vertically and horizontally, promoting ventilation and efficient cooling.
Biogreen Memory Foam: a specialized foam that is extremely low in volatile organic compounds (aka VOCs), Biogreen is lab tested and proven to be without residual toxins.
Firmness
Firmness is subjective, and can depend on weight and body type. While most Tempflow mattresses are described as "soft but firm," several of their models offer a plush option as well as a hybrid option for a more responsive experience than an all foam model. On average, they sit at a 6 or 7 on a scale of 10, 1 being the softest. Tempflow mattresses naturally soften a little over time, and the company recommends a semi-regular rotation of their mattresses to ensure you get the most out of them.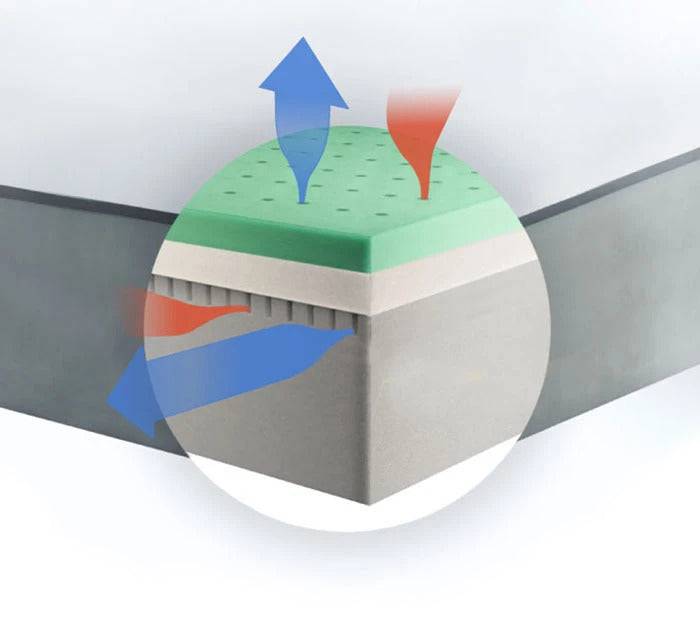 Pros and Cons
Who are the Tempflow mattresses best for?
Tempflow mattresses are best for those in search of a breathable memory foam bed. Anyone concerned with the safety of memory foam mattress material can appreciate the lengths Tempflow has gone to to incorporate non-toxic certified foam that virtually eliminates off-gassing odors. Sleepers of all types in search of the motion isolation memory foam is known for can find a Tempflow model for them.
How is it for sex?
Couples should love the motion absorption of the Tempflow memory foam layers because it means less disturbances at night from their partner, kids or pets. The foam may provide good traction, but can be limiting as far as easy motion goes, which can make it more difficult to change positions. Lastly, couples may feel limited to the middle of the bed unless they opt for one of the hybrid Tempflow models for added edge support and bounce.
How is the cooling?
While many other memory foam mattress brands boast about cooling technology, Tempflow's patented AirFlow technology system is said to be one of the few that actually works. Tempflow mattresses overall do a great job at regulating temperature, ventilating heat and adjusting with the seasons.
If someone isn't satisfied with Tempflow's cooling technology, the company recommends their Organic Cotton mattress protector, which absorbs sweat and promotes extra air circulation.
What's The Catch?
Depending on the model, Tempflow memory foam mattresses may have poor edge support. Couples may have trouble moving around on the foam during intimate moments. If you sleep extremely hot, even a Tempflow mattress may not be the solution, though it could be worth a trial period to find out. Heavier weight sleepers may need to opt for the hybrid models for extra support. Other than that, the biggest catch for some is likely the sticker price.
The Best Tempflow Mattress Reviews
Owners of Tempflow mattresses recommend them over larger commercial brands because their prices are more accessible, and their warranty is superior. Tempflow's customer service is highly spoken of in reviews. Happy owners of Tempflow mattresses say they have indeed solved the two main problems that usually come with memory foam mattresses: off-gassing and cooling. Tempflow mattresses are proven to be far less toxic than the average mattress, and most reviewers say the airflow technology works extremely well!
The Worst Tempflow Mattress Reviews
Bad reviews of Tempflow mattresses are difficult to find. The biggest complaints are over the firmness and break-in period, though the company promises to work with any complaints to find a solution. Some individuals may not be impressed with the airflow technology and may still experience night sweats. Tempflow's reputation is so good, it's hard to say much else.
Tempflow Mattress Warranty
Tempflow offers a 40-year limited warranty, second best only to the Lifetime warranty offered by other companies. In the first ten years of mattress ownership, Tempflow will take responsibility for any defective parts, labor and materials and perform repairs at no cost. However, shipping and handling fees during the return process will be the customers responsibility.
From the 11th year of ownership on, defect repairs are available at a prorated amount, plus shipping and handling fees. The prorated amount is calculated by dividing the number of years owned by 40, then multiplied by the original mattress cost. In order to return your Tempflow mattress, you must obtain a Return Material Authorization before sending it back to their manufacturing plant. Be sure to read the terms and conditions before the purchase of any mattress, and keep any receipts and records of purchase in a safe place at home.
What The Tempflow Warranty Covers
Tempflow mattresses are warranted to be free from defects in materials and workmanship for 40 years from the original purchase date. Sags greater than 3/4 of an inch are covered, so remember to use a proper foundation and regularly rotate the mattress to ensure longevity. Tempflow mattresses naturally soften a bit through the break-in period, which is not considered a defect.
What The Tempflow Warranty Doesn't Cover
Physical abuse or neglectful damage such as burns, cuts, stains, tears or liquid damage isn't covered by Tempflow's warranty. While they don't have specific instructions on using a proper foundation or base, Tempflow's warranty also doesn't cover damage by use of an improper foundation, such as a slatted foundation that allows the mattress to bend and sink between the slats. With proper care, Tempflow mattresses are designed to last as long as possible.
Sleep Examiner's Review Process
Here at Sleep Examiner, we consider ourselves expert reviewers of all things sleep. However, we believe that ten opinions are better than one, so we take on the task of opening twenty different browser tabs and digging deep so you don't have to. We painstakingly comb through reviews on multiple sites for every mattress, pillow, and sleep accessory we can find – so you don't get fooled by fake, biased, or limited points of view.
Using a combination of verified customer reviews, we put together in-depth research on the exact composition and materials used, as well as comparisons and ratings from expert sites. Once our research is concluded, our system automatically generates an overall performance score for each mattress based on the collected data in the following categories: Comfort, Firmness, Edge Support, Affordability, Cooling, Trial Period, Warranty and Customer Support.
Tempflow Mattress Summary Analysis
Tempflow has an impressive reputation. With very little poor reviews, it seems Tempflow has held true to its word when it comes to customer satisfaction. As a division of Relief-Mart, Inc, Tempflow has become an industry leader in pain relief, comfort management, and memory foam products. Tempflow's standards and quality of materials are both high, making it easy to see why they're so well rated.
Tempflow Mattress Collection Performance Score
Comfort: 4/5
Back Support: 4/5
Edge Support: 3/5
Affordability: 3.5/5
Cooling: 4/5
Trial & Warranty: 4/5
Customer Service: 5/5
The Verdict: 3.9/5
If you sleep hot and still want a memory foam mattress, Tempflow just might be the magic mattress for you. While their prices may still be considered high for some shoppers, Tempflow models are still more affordable than many of their competitors. With plenty of environmentally safe options and patented airflow technology, Tempflow is easily recognized as the superior choice to many other memory foam models.
CHECK PRICE