Comfort

Back Support

Edge Support

Affordability

Cooling

Trial & Warranty

Customer Service
Nectar Original Mattress
While the Nectar memory foam mattress has the potential to be the perfect fit for memory foam fans with the right body and sleep type, the warnings and controversies shouldn't be ignored. If you can find this bed in a store, definitely try it out before you purchase, and make sure you know which warranty you're getting if any in case you don't love it after a while.
We are completely independent and do an in-depth mattress analysis that includes utilizing ratings from many other sites with each review.  When you buy through our links, we may earn a commission. Learn more
Nectar Mattress Review
Since 2016, Nectar's original flagship mattress has remained their most popular model. The approachable price and medium firmness has satisfied many fans of the memory foam style mattress.  If you're in the market for a good memory foam bed you can sink into at the end of the day, read on to find out if Nectar is the right choice for you
Material
Gel-Infused Memory Foam
Shipping Method
Free, extra charge for AK and HI
Reviewer Rating Highlights For The Nectar Mattress
The Nectar mattress is a great choice for average weight side sleepers and back sleepers who like to feel hugged by their bed. With an affordable price and gel infused foam that relieves pain and pressure, the lifetime warranty and one year trial period make Nectar an appealing choice.
Recommended for the following sleeper types:
Best Mattress For:
Those on a budget
Back and side sleepers who weigh 130-230lbs
Memory foam fans who like to "sink in"
Not Recommended For:
Heavier weight and stomach sleepers
Those who tend to overheat at night
Those who enjoy a more traditional bouncy bed
A Closer Look at the Nectar Mattress Materials
It should be noted that Nectar has faced a legal charge over claiming their beds were made in the USA. These beds are made in China, which may explain why they're more affordable as far as memory foam beds go. The foam material is CertiPUR-US™️ Certified, meaning it's free of harmful chemicals, heavy metals, and ozone depleting materials. That being said, the mattress will likely have an off-gassing odor that will need to be aired out for up to three days before use.
Top Layer: A 10-cell soft and breathable fabric cover, completely removable and washable!
Comfort Layer: 3" gel infused memory foam hugs and relieves pressure, while the gel promotes cooling.
Transition Layer: 2" poly foam prevents further sinkage from the top layer to the base layer.
Support Core: 7" of high density poly foam provides decent structure and edge support for a memory foam.
Firmness
The Original Nectar Mattress falls into that medium range of firmness a lot of memory foam beds do: right around 6 on a scale out of 10. If you weigh any less than 130lbs, this will feel more like a 7, and possibly be too firm. If you weigh more than 200lbs, it might feel like a 5, and you could need more support. Always remember comfort is subjective, but the average firmness of the Nectar has the potential to be a crowd pleaser overall.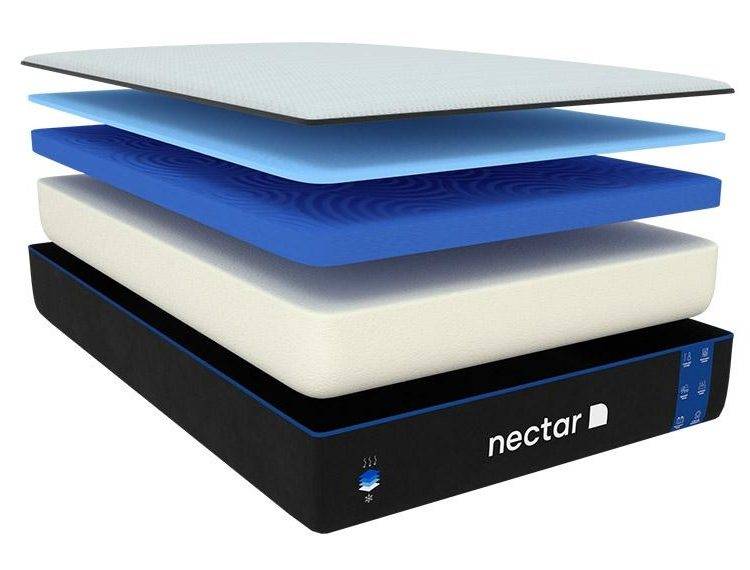 Mattress Sizes and Prices
(price doesn't include discount or sale items)

| Size | Dimensions | Regular Price |
| --- | --- | --- |
| Twin | 38" X 75" | $798 |
| Twin XL | 38" x 80" | $968 |
| Full | 54" x 75" | $1,198 |
| Queen | 60" x 80" | $1,298 |
| King | 76" x 80" | $1,598 |
| California King | 72" x 84" | $1,598 |
Pros and Cons
Who is the Nectar mattress best for?
If you're set on a memory foam mattress, but don't want to pay out the nose, a Nectar bed might be a nice choice for you. Couples and people who sleep with pets will enjoy the motion absorption of the foam and experience fewer disturbances at night than with a typical mattress. Average weight sleepers may find pain and pressure relief in all the right places. Those who prefer to feel like they're sleeping in their bed instead of on top of it will appreciate sinking into a Nectar Original Mattress.
How is the cooling?
The Nectar mattress boasts a cooling gel comfort layer and a breathable cover. For the average sleeper, this could mean warmer winters and cooler summers, but there is no memory foam known to man that doesn't tend to insulate heat. If you sleep hot regularly, it's best to stay away from memory foam, or try a hybrid.
Is it a good fit for couples?
Nectar beds are great for reducing disturbances and isolating movement. However, couples might feel forced to the middle for sex and have some trouble changing positions on the slow-moving foam.
The edge support is good for a memory foam bed, but still lacking for some. It's great for people with pets who don't wish to be disturbed by movement, but couples may want to make sure they like it before sticking with their purchase.
What's The Catch?
Side sleepers may still find their hips sinking in a bit too much depending on their weight, which is bad news for spine alignment. This mattress is not necessarily recommended for stomach sleepers, and combination sleepers may struggle to change positions, making them feel "stuck."
According to the BBB, Nectar has a fair amount of customer complaints about shipping delays and defective products. If you don't order directly from Nectar, there's a good chance the warranty won't be honored, which is what happens when you order it from Amazon.
We highly recommend reading the fine print of the warranty and return policy before purchasing from your vendor of choice. You can't return the Nectar until after the initial month of your trial, which may be frustrating for some.
The Best Nectar Mattress Reviews
Happy customers love the pressure relieving hug of the Nectar Mattress. At best, the Nectar reduces joint pain, back pain and general body soreness. Reduced motion transfer may have couples sleeping soundly with less disturbances. The adaptive foam contours in all the right places, encouraging relaxed muscles and deeper sleep.
Nectar Mattress Complaints
Those who didn't like the Nectar really didn't like it. There's no shortage of bad reviews, and if you sort the reviews on their website by the most votes, you'll find a plethora of dissatisfied one stars. For some, the mattress was too heavy, never fully inflated to the advertised size and retained a horrible "PVC cement" odor that never really went away. For others, the firmness was all wrong, despite thinking it would be good for their body type and sleep style. Customer complaints range from difficulty returning to never receiving the mattress in the first place.
Nectar Mattress Warranty
Nectar Sleep boasts what they call a "forever warranty," also known as a lifetime warranty. The Nectar warranty is only valid for the original purchaser, and is extended exclusively to mattresses sold by Nectar Sleep or Nectar Sleep's authorized retailers. Shipping and returns are free, and Nectar promises an easy return process within the year home trial. Be sure to read the terms and conditions before the purchase of any mattress, and keep any receipts and records of purchase in a safe place at home.
What the Nectar mattress warranty covers:
Nectar openly offers a free replacement at any time if the mattress compresses and forms impressions, as long as the impressions are 1.5 inches or more. Other defects covered include improper degradation, splitting or cracking, and manufacturing defects in the assembly of the mattress. As long as the physical defect has nothing to do with an improper or unsupportive foundation or bed base, you're covered.
What the Nectar mattress warranty doesn't cover:
It's important to note that removing the mattress cover will void the warranty. Read that again! The Nectar mattress warranty doesn't cover what they call "comfort preference," meaning if you've kept your mattress past the year trial and you simply find it uncomfortable, there is nothing that can be done. The warranty also doesn't cover environmental damage and misuse, neglect, or accidental damage. When in doubt, go over your paperwork before calling Nectar Sleep customer service.
Sleep Examiner's Review Process
Here at Sleep Examiner, we consider ourselves expert reviewers of all things sleep. However, we believe that ten opinions are better than one, so we take on the task of opening twenty different browser tabs and digging deep so you don't have to. We painstakingly comb through reviews on multiple sites for every mattress, pillow, and sleep accessory we can find – so you don't get fooled by fake, biased, or limited points of view.
Using a combination of verified customer reviews, we put together in-depth research on the exact composition and materials used, as well as comparisons and ratings from expert sites. Once our research is concluded, our system automatically generates an overall performance score for each mattress based on the collected data in the following categories: Comfort, Firmness, Edge Support, Affordability, Cooling, Trial period, Warranty and Customer Support.
Nectar Mattress Summary Analysis
In spite of the negatives, Nectar is a successful well-awarded company, and many sites agree that their flagship mattress is a great value for the price. They've become so popular they now have store models, which is good news for anyone who wants a physical test run before considering a purchase. Nectar is owned by parent company Resident, who are also responsible for the DreamCloud and Awara brands. All gently used mattresses are donated to charity to help those in need.
Nectar Mattress Performance Score
Comfort: 4.3/5
Back Support: 3.4/5
Edge Support: 3/5
Affordability: 4.5/5
Cooling: 3/5
Trial & Warranty: 3.5/5
Customer Service: 2.5/5
The Verdict: 3.5/5
While the Nectar memory foam mattress has the potential to be the perfect fit for memory foam fans with the right body and sleep type, the warnings and controversies shouldn't be ignored. If you can find this bed in a store, definitely try it out before you purchase, and make sure you know which warranty you're getting if any in case you don't love it after a while. The right base can factor into the experience, as well as prevent sagging, so be sure you have the appropriate set up.
CHECK PRICE