Comfort

Back Support

Edge Support

Affordability

Cooling

Trial & Warranty

Customer Service
Summary
The Tempflow Elite Contour medium is a medium-firm and supportive mattress that has solved the main downsides found in memory foam mattresses: smell, price, and cooling. Tempflow's use of safer materials means they're great for those with sensitivities.
Comfort

Back Support

Edge Support

Affordability

Cooling

Trial & Warranty

Customer Service
Tempur-Pedic ProAdapt Mattress
The Tempur-Pedic ProAdapt medium mattress is a luxury memory foam mattress with several selections of firmness, including a hybrid option. Tempur-Pedic's memory foam contours and relieves pressure where you need it, giving you deeper and more refreshing sleep.
Which Memory Foam Mattress Is Best For You?
Tempflow Mattresses vs Tempur-Pedic Mattresses
Buying a luxury mattress is a big decision. If you're reading this, chances are you're carefully weighing your options, in search of the perfect memory foam mattress. Tempur-Pedic is a well known brand with a reputation for producing high quality luxury memory foam mattresses. But is it the best choice? Tempflow has announced itself as the direct competitor of the Tempur-Pedic brand. While not as well known, Tempflow may be the only other high density memory foam competitor that gives Tempur-Pedic a run for their money. Let's take a look at how two of their most similar mattresses compare!
Tempflow Elite Contour Medium vs TEMPUR-ProAdapt (Medium) Mattresses
Comparing Mattress Similarities & Differences
As we dive into the aspects of these mattresses, let's discuss their key differences and similarities. We also encourage you to check out our separate comprehensive review of the Tempur-Pedic Pro-Adapt medium and the Tempflow Elite Contour medium.
Similarities
Material type: Both mattresses are 12 inches thick and have classic high density and slow reacting NASA inspired memory foam that offers full body contouring, and pressure relief exactly where you need it.
Motion isolation: Both mattresses are excellent at isolating motion, which means you won't feel disturbed by movements from a restless partner, pets or kids.
Luxury price tag: Both high-quality mattresses have a higher price tag, so they may not be viable options for budget shoppers, though Tempflow handily beats Tempur-Pedic with their various promotion sales that seem to be constantly changing, but ensuring that they are often quite lower than Tempur-Pedic.
Differences
Safety of materials: The Tempflow EliteContour mattress features unique foam that boasts multiple safety certifications, most notably the lowest industry V.O.C. (Volatile Organic Compound out-gassing emissions) awarded with their GreenGuard Gold Certification on their mattresses and pillows, ensuring it to be a nice choice for those who are sensitive or allergic to certain mattress materials. The Tempur-Pedic Pro-Adapt mattress only has the basic Certi-PUR-US certification, which allows for double the amount of V.O.C.s, and some reviewers complain that the initial off-gassing can be pretty overwhelming.
Price tag: While both mattresses are more expensive due to their quality, the difference in price could be a lead factor for those in search of a luxury bed. Depending on the options you choose, the EliteContour is more likely to prove cheaper. For example, a mattress and foundation from Tempur-Pedic with the Pro-Adapt can cost an upwards of $4,000, whereas a set from Tempflow with the EliteContour has routinely been closer to $3,000 on average.
Temperature Regulation: Tempflow offers an optional patented  Airflow Transfer System that combines thousands of surface holes and open air flow channels underneath that has been tested to give up to 100 times more breathability when compared to a memory foam mattress made the exact same way without it.  Many happy customers often vouch for as one of the few cooling systems around that genuinely works.  The Tempur-Pedic ProAdapt mattress  doesn't offer a cooling option, however both the Tempflow and Tempur-Pedic offer a special cooling gel-type of add-on that will make the mattress cooler and likely only more cool to the touch when you choose their upper line models like the Tempur-Breeze or in the case of the Tempflow, their Glacier collection.  These cooling gel-like phase change technologies do bring down your body temperature at first, but it is worth noting, that they may not work continuously if you do not move around on the mattress.
Comparing The Difference in Mattress Materials
While the Tempflow EliteContour and Tempur-Pedic ProAdapt have the same thickness and use similar NASA inspired materials, there are several differences in their construction that set them apart. From their covers to their bases, take a look at what makes each memory foam mattress unique:
Tempflow Elite Contour Medium Mattress
Kool-Flow Cover: a breathable blend of polyester and bamboo, this knit fabric cover is featured on each Tempflow mattress and micro-vents for better airflow.
Comfort Layer: 2 inches of Tempflow's HD-Plush foam that you can really sink into!
Transition Layer: 2 inches of Tempflow's HD memory foam, the same foam designed by NASA to cradle and contour important pressure points.
Support Layer: 8 inches of Tempflow's dense channeled base foam to support the structure and promote durability.
Optional Airflow Transfer System: a patented technology that channels airflow through the mattress both vertically and horizontally, promoting ventilation and efficient cooling.
Tempur-Pedic ProAdapt Medium Mattress
SmartClimate Dual Cover System: a breathable knit cover, with a stretchy knit layer underneath, both removable and washable!
Original TEMPUR Comfort Layer: Tempur Pedic's original NASA inspired foam for advanced personalized contouring support.
TEMPUR-APR Support Layer: APR stands for Advanced Pressure Relief, to reduce tossing and turning as well as isolate motion.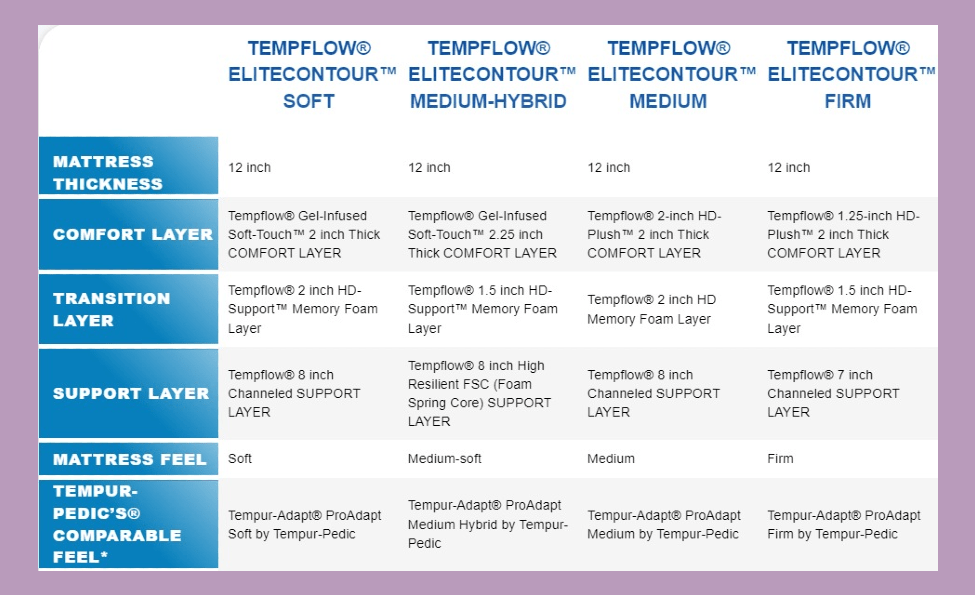 Comparing the Pros and Cons
Both Tempur-Pedic and Tempflow Similarities
It should be noted that both mattresses use far superior materials to the much cheaper bed-in-a-box memory foam mattresses that don't seem to compare in feel, support or longevity, so don't get fooled into thinking you can buy a real Tempur or Tempflow type mattress on the cheap and get the same quality!
Tempflow Elite Contour Medium Mattress
Best Mattress For:

If you're concerned about the safety of mattress materials, you should appreciate the lengths Tempflow has gone to to ensure the lowest off-gassing of volatile organic compounds (aka VOCs) possible and proved it with their Greenguard Gold Certification, making this a great option for those looking for a truly non-toxic experience. If you're a heavier weight sleeper, the construction of the EliteContour is likely to provide more stability than the ProAdapt, where edge support is lacking.
Not Recommended For:

Those who prefer a more responsive mattress may need to opt for a hybrid model or something else entirely instead. While the top layers of the Elite Contour are said to respond slightly faster than the ProAdapt, both mattresses are meant to give the ultimate in pressure relief by enveloping your body with a more deeper contouring. Those on a tight budget will also need to look elsewhere, because although Tempflow's prices are lower than Tempur-Pedic's, a good high quality mattress, but will still cost a pretty penny.
Tempur-Pedic ProAdapt Medium Mattress
Best Mattress For:

If you don't sleep hot, you won't mind the pro-adapt occasionally insulating heat and might even appreciate it! Since there's no outright cooling feature in the construction, mattress users often report that it sleeps a little warm. However, those who have previously owned a Tempur-Pedic mattress and are loyal to the brand, will not be disappointed in another well made, high density (though perhaps not as high of a density as their past models), mattress from a company they can rely on.
Not Recommended For:

Those with allergies or sensitivities to mattress materials might need to consider shopping elsewhere, as the safety certifications of the Pro-Adapt are more minimal and reviews contain complaints about the off-gassing seem to abound. If you sleep close to the edge, be aware the ProAdapt is said to be lacking in the edge support department. Those on a budget may not be able to swing the price of a ProAdapt, especially if you're in the market for a new foundation as well, though even at a significant saving, the Tempflow may not hit their budget mark either.
Side by Side Mattress Comparison
Now that you know some basic facts about both mattresses, let's go into depth about how each one feels. Bear in mind that the firmness experience of a mattress is often subjective, and dependent on weight and body type.
The firmness of the Pro-Adapt medium falls in a neutral range on the scale. If rated from 1 to 10, 1 being the softest, the Pro-Adapt medium would fall anywhere from a 4.5 to 6. Tempur-Pedic mattresses are known to soften a little over time, so keep this in mind when contemplating the Pro-Adapt medium. This mattress is especially fitting for back and side sleepers.
The EliteContour medium from Tempflow is often described as "soft, but firm." If rated on a scale from 1 to 10, 1 being the softest, the EliteContour would likely fall at a 6.5. The foam in the initial layers is said to contour slightly faster than the Pro-Adapt, but the density of the support layer ads firmness and structure. This mattress is suitable to a majority of sleeper types.
Both mattresses are perfect for those who prefer to "sink in" rather than lay "on" their bed at the end of the day. They're particularly well matched for average weight back and side sleepers, but the Tempflow EliteContour is likely to be more accommodating for heavier weight and combination sleepers. If you sleep hot, the Tempflow Elite Contour is the superior choice, no questions asked.
The Best Mattress Reviews
Owners of either the TEMPUR-ProAdapt Medium or Tempflow Elite Contour Medium say they work exactly as advertised. Both mattresses contour to relieve pressure and allow deep undisturbed sleep. The medium firmness is a crowd pleaser in general, and are both described as "soft, but firm." Happy customers enjoy these mattresses for very similar reasons, although customers of Tempflow go out of their way to mention excellent customer service on top of their high quality product.
The Worst Mattress Reviews
While it is difficult to find negative feedback about Tempflow's Elite Contour, disgruntled customers from Tempur-Pedic don't hold back. The most common predicament unhappy customers faced was not enjoying the firmness level of either mattress. However, many Tempur-Pedic customers say the ProAdapt is an overhyped and lower quality model than the brand has previously released. If you don't opt for the cooling system offered by Tempflow, the Elite Contour might sleep hot, but the ProAdapt is an almost guaranteed heat trap for those who overheat at night.
Shipping Method
Free, Return fees apply
Firmness
Medium, Customizable
Material
Foam, Hybrid option includes coils
Trial Period
90 nights, 30 day break-in period
Shipping Method
Free, with exceptions to AK and HI
Firmness
Soft, Medium, Firm
Comparing Trial Period & Mattress Warranty
Last but not least, you might be wondering how long you can try these mattresses out for, and what to do if you need to return them. The Elite Contour and ProAdapt have several major differences in their trial period and warranty terms.
Let's take a look:
Tempur-Pedic offers a 90 night trial period, requiring a minimum of 30 nights before a return claim is made. All Tempur-Pedic mattresses are covered by a 10-year full replacement limited warranty, meaning for up to 10 years after purchase, any confirmed defects covered under the warranty can be claimed for a repair or replacement with no deductible.
A natural increase in softness of the Tempur material that does not affect the overall quality of the mattress isn't covered, and neither is overall comfort preference, meaning if you simply find the mattress uncomfortable after the trial period you may be stuck with your mattress.
Tempflow offers a 120 night trial period, or four months to decide whether or not you'd like to keep the Elite Contour. Tempflow offers a 40-year limited warranty, second best only to the Lifetime warranty offered by other companies. In the first ten years of mattress ownership, Tempflow will take responsibility for any defective parts, labor and materials and perform repairs at no cost. However, shipping and handling fees during the return process will be the customers responsibility. From the 11th year of ownership on, defect repairs are available at a pro-rated amount, plus shipping and handling fees.
Both warranties do not cover physical abuse or damage such as burns, cuts, stains, tears or liquid damage, and reserve the right to void your warranty if you're caught using an improper base or foundation. Be sure to read the terms and conditions before the purchase of any mattress, and keep any receipts and records of purchase in a safe place at home.
Sleep Examiner's Review Process
Here at Sleep Examiner, we consider ourselves expert reviewers of all things sleep. However, we believe that ten opinions are better than one, so we take on the task of opening twenty different browser tabs and digging deep so you don't have to. We painstakingly comb through reviews on multiple sites for every mattress, pillow, and sleep accessory we can find – so you don't get fooled by fake, biased, or limited points of view.
Using a combination of verified customer reviews, we put together in-depth research on the exact composition and materials used, as well as comparisons and ratings from expert sites. Once our research is concluded, our system automatically generates an overall performance score for each mattress based on the collected data in the following categories: Comfort, Firmness, Edge Support, Affordability, Cooling, Trial Period, Warranty and Customer Support.
Sleep Rating: 3.5/5 Sleepers & Couples Recommend
Both the ProAdapt and Elite Contour are excellent choices for couples and those who suffer from chronic pain, but have several key differences that set them apart. A high quality luxury memory foam mattress is a lovely addition to any home, but depending on your budget and personal preferences, you may decide on one over the other.
Best Mattress Features For Tempflow Elite Contour:
Material safety
Optional cooling system
Pressure relief
Best Mattress Features for Temper-Pedic ProAdapt:
Reliable brand
Pressure Relief
Motion isolation
Our Mattress Comparison Summary Analysis
While Tempur-Pedic has maintained its reputation for producing some of the best, high quality memory foam mattresses, Tempflow is working hard to compete with them directly.  As a subsidiary of Relief-Mart, Inc, Tempflow has become an industry leader in pain relief, comfort management, and memory foam products.
Those who review Tempflow mattresses have a lot of kind things to say, particularly about the customer service they received. On the surface, it seems a large majority of Tempur-Pedic ProAdapt owners are also pleased with their purchase. It's difficult to find unhappy customers of Tempflow, but far easier to find those disappointed by Tempur-Pedic, who sometimes feel left high and dry with an expensive bed they can't return.
Mattress Comparison Performance Score
Comfort: 3.5/5
Back Support: 3/5
Edge Support: 3/5
Affordability: 2.5/5
Cooling: 3/5
Trial & Warranty: 3.5/5
Customer Service: 3.5/5
The Verdict: Tempflow Elite Contour Medium Mattress 3.1/5
When compared side by side, the score of the Tempur-Pedic ProAdapt drags down the score of the Tempflow Elite Contour. Tempur-Pedic truly has met its match. While these mattresses seem quite similar on the surface, the EliteContour from Tempflow is the obvious choice for anyone in search of superior cooling, safer materials, better customer service, and a more affordable price. All in all, if you're looking for an alternative luxury memory foam bed, the Elite Contour is our recommended choice.